With the sun shining and the temperatures creeping up, Spring finally seems to be rolling in! Summer won't be far behind and let me tell you, there is nothing as beautiful and lovely as summer in the Kootenays! Already, I find myself dreaming about breakfasts outside in the warm summer sun, taking in the amazing mountain views. At the moment our yard is a big, messy pile of snow & mud and, with a million other things to spend our money on this summer, the best we can hope for is a big, messy pile of dirt … so, when we're not out hiking or biking, we will likely be enjoying the great outdoors on our courtyard deck. Without a place to sit or even set down a drink, it's not an easy place to relax. Enter the outdoor dining set.
Originally, I figured we'd shell out $500 for a decent dining set up and enjoy it for years to come; however, it seems (like so many other things), I greatly underestimated what it would cost to get even a simple table and some chairs. I could go to ikea or Walmart and find a smaller, less expensive set to get us through the summer for $300-$500 and it would do the job, but I just can't bring myself to spend so much on something that will be so temporary. So instead, I've adjusted our budget to $1000 (*ish).  I'm picturing something with a wood or wicker look, but we need something that will stand up to the elements on our uncovered deck and I'm not really open to doing a ton of maintenance every year, so I'm thinking faux wood and resin wicker will work best for us.
I thought I'd share some of my favorite options. If you're hunting down an outdoor dining set this Spring too, hopefully this will help get you started!
Seating for 4:
Joss and Main has this 5 piece dining set for $1090 right now, which really seems like a steal when comparing it to similar sets!  I absolutely love the idea of being able to tuck everything away from the elements so easily!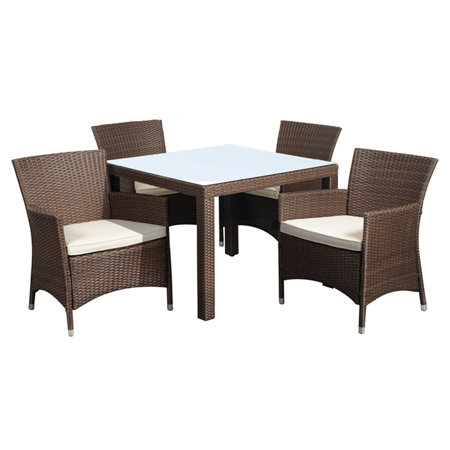 Another 4 seater option from Joss and Main for only $790.  I like the substantial chairs and the table has got a classic look, but unfortunately, it's a bit small for us.
Seating for more:
Home Depot has this 7 piece set for only $855.  That's a faux wood table (so no maintenance) and the chair cushions and lumbar pillows are included in this price.
This option came from an unexpected place … Jysk.  At $699, this set seems like an amazing deal!  The black wicker looks a bit more contemporary and I'm loving the shape of the chairs.
If you have a bit more to spend:
At $1338.00, This is definitely over budget, but I really do love the idea of being able to tuck away the chairs easily, which will really help to keep them clean and dry.  Unfortunately, no cushions for these ones.
This faux wood table and the resin wicker chairs are exactly what I'm looking for!  It comes in a bit over our budget at $1599 from Hayneedle.
Coming in at $1836, this set up isn't really an option for us, but I couldn't help but share the brilliant way everything folds and tucks under the table!
Though I'm not so sure about the wood construction, I do love the classic look of this set.   I also really like that I could purchase a couple of wicker chairs for each end down the road to expand this set for 6 people.  This set is slightly over our budget at $1270, but isn't completely unreasonable to consider.
A girl can dream:
If you have thousands to spend, and a covered space to protect your investment, then these options from Pottery Barn and Restoration Hardware should absolutely top your list!  SO gorgeous!!!
DIY option:
I truly love the idea of building our own set!  This way we could really get the look we're going for and, not only would we save some money, but we would appreciate them so much more.  I'm not afraid to put the work in (not sure hubby agrees with me here), but I don't love the fact that we would have to put work into maintaining the beauty for years to come.
---
With a bit of digging, I was able to find a ton of choices that would work for us.  I really like the idea of building our own set … with all of the building plan options available online, there's no doubt we could find something resembling one of the dream tables from Restoration Hardware or Pottery Barn.  With a couple of benches and a a pretty wicker chair at each end, I think it could look really great!
If we do decide to buy, this is perhaps my favorite option … at $906 it comes in under budget and I really love the mix of the metal and wicker.   With the rustic looking table and bench, the metal chairs and the wicker, this set is exactly what I was picturing!  Added bonus: with a throw cushion or two, those wicker chairs would be a comfy place to curl up on the deck with a book!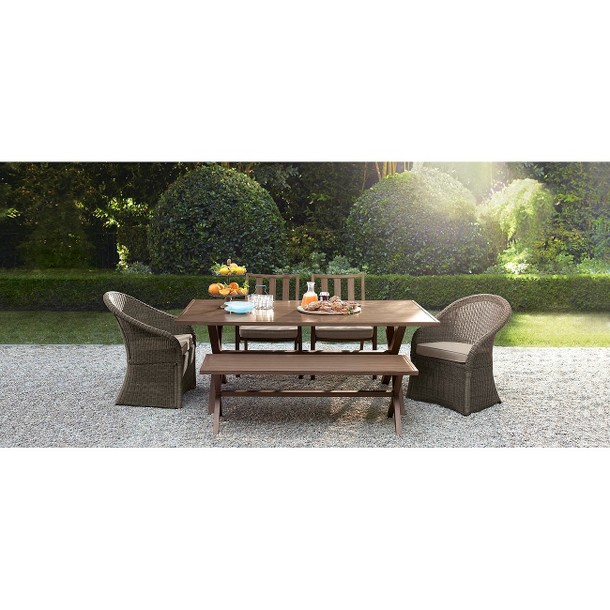 Would LOVE to hear what you think would look best on our little courtyard deck?